Specially for agencies
The suitable configurator solution for your customers.
In order to design successful configurators for your customers, it is crucial to find a solid technological basis. As a leading manufacturer, Combeenation offers a platform for this for agencies, as you are used to from e-commerce, ERP or PIM systems. Never before has it been so easy to benefit from Combeenation's years of knowledge and gain insight into leading technology. Benefit from a partnership with high scalability potential.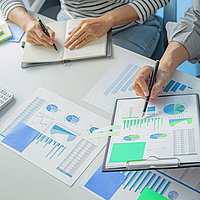 Your benefits as a partner
3 growth opportunities for agencies
Guaranteed the right solution for your needs.
As a Strategic Partner, you will independently handle configurator projects for your customers.
From conception to go-live, you can rely on Combeenation's award-winning configurator platform and years of expertise. Combeenation will provide you with the necessary support, including years of expertise.
As a Performance Partner, Combeenation creates the configurators for your customers.
Direct your customers directly to Combeenation. Communication takes place either directly between the customer and Combeenation or between you and your customer.
As an Implementation Partner, you handle projects independently - but without customer contact.
Combeenation arranges concrete customer projects for you. You take care of the creation of the configurators. Communication & conception with the customers is done by Combeenation.
Strategic | Performance | Implementation
Our agency partners
Full service agency with years of experience for consulting-, creative content-, digital- and media know-how.
true studios offers SEO optimized websites, social media channel design, movies and animation.
Online agency for websites, webshops & apps with 20 years of experience and more than 240 active web projects.
Internet agency for digital communication & online marketing with years of experience.
Online agency for sophisticated applications, online marketing, SEO and social media.
SIWA offers everything from webshops and corporate websites to comprehensive ERP solutions.
NETFORMIC offers individual software solutions, scalable platforms and digital products & services.
E-commerce and web agency with around 150 digital experts at locations in Germany and Switzerland.
Digital agency for branding, web design, e-commerce, content marketing, digital marketing and graphic design.
trinitec has been digitizing business processes since 2004 and leading companies to success in digital sales.
Successful configurators for your customers.
READY TO CUSTOMIZE THE WORLD
Become a partner now


Andreas
Fidler
Configurator Consultant
+43 7283 80170 645
Send message