Demo configurators
Explore Combeenation's interactive 3D demos. Rotate, zoom, & design any objects as you like.
Car Configurator
With our interactive car configurator, you can view your dream car from all angles. The interactive 3D configurator even allows a detailed look into the interior as well as a day/night mode.

CAR CONFIGURATOR
Watch Configurator
A really high-quality product must be presented and staged accordingly. With the watch configurator your customers can change color, strap, dial,... and much more.

WATCH CONFIGURATOR
Bike Configurator
With our bike configurator you have the opportunity to assemble your bike according to your wishes and needs yourself. In a few clicks you have your dream bike and can choose all components themselves.

BIKE CONFIGURATOR
Radio Configurator
Design the color of your own individual radio or echobot. Thanks to the high-quality 3D visualization, you won't know any difference from the real product. Have we made you curious? Let's go.

RADIO CONFIGURATOR
Couch Configurator
Design your own individual couch and change the color or arrangement of the seating group. Of course, this can be rotated and viewed from all angles during the process.

COUCH CONFIGURATOR
Table configurator
With the demo configurator from Combeenation, it's child's play to configure your dream table, including the chairs that go with it. Special highlight: place the seating group in a real living environment.

TABLE CONFIGURATOR
CASE STUDIES
Want more references?
Combeenation configurators have been used successfully for years in a wide variety of industries. No matter if B2B or B2C, with the help of configurators, you can make your product come alive.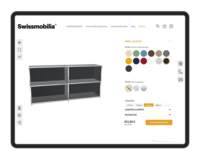 THE BENEFITS
Ignite the sales turbo!
Increase your sales with a unique product presentation and gain a competitive advantage. Would you like to discover even more advantages?
BENEFITS 3D CONFIGURATOR
We have already developed 7 (!) Configurators with Combeenation.
Wolfgang Brunmayr
CTO Molto Luce