FOR DIGITAL AGENCIES
The free platform makes your work easier.
The platform is a kind of building-block system where implementers receive useful tools that make life easier. A configurator does not have to be built from scratch. You simply use the features, tools, and elements that you need for an individual product configurator. You can do almost everything we can do.
SETUP
Create an account and you're ready to go.
Thanks to the Combeenation platform, you don't have to worry about security updates or new feature developments. We are your software-as-a-service provider. With us you will find everything from a test environment to live mode. Just create an account and you are ready to go.
CONFIGURATOR BUILDING WITHOUT LIMITS
Create UI/UX easily using our editor.
Our platform offers free templates that will save you a ton of time and programming effort when building the configurator. Do you still want more? Then you can extend this with JavaScript - no problem!
FIELD-PROVEN PLATFORM
Our rules system knows what can be combined.
With the Combeenation rules system, all dependencies are defined in the background (e.g. product X is available in the color blue). The platform allows only orderable and producible variants to be configured. It does not allow any errors and consequently no wrong orders.
Maintenance
A structured expansion of your configurators.
Your customers' product portfolios are constantly being expanded - configurators are a dynamic tool. It is essential that configurators can be easily expanded with products, variants, interfaces, and functions.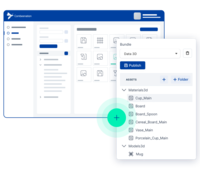 TOOLS
Implementers have many important tools that make life easier.
Combeenation platform standards include:
2D View & 3D Babylon JS Viewer
versioned asset management area
development environment with staging system
version history
multiple standard checkout options
dashboard with key performance KPIs
user management & rights management
automatic, scheduled or push-based data import in dedicated workflow area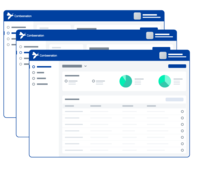 Browser AR
no additional app needed
maximum shopping experience
Plugins for shopware systems
Templates
for a quick start
for maximum time savings
Easy embedding
with the help of iFrame
the configurator is a simple URL under which it can be reached
3D SERVICE
We are glad to create 3D models for you.
Your customers don't have accurate 3D models of your products? Let us worry about that. We will create suitable 3D data for you for an agreed flat rate - even if your customers can only provide photos of the product.
The three areas of the platform...
FREE AND WITHOUT COMMITMENT
Would you like to explore all the benefits of the Combeenation platform?
Benefit as a digital agency from a holistic solution for your customers.
VIEW PLATFORM ADVANTAGES
The platform is the solution for the rapid implementation of configurators that can be maintained over the long term.
Benefit now
from the award-winning platform
Expand your portfolio
with configurators now.
Discover the countless possibilities and features of our platform now and let our experts support you. What are you waiting for? Get started now!