Configurator knowledge
Cloud configurator vs. on premise configurator
Everyone is talking about on-premise and cloud solutions. But what do configurators have to do with this? Configurators can be offered both on-premise and cloud-based. We explain the terms and show you the advantages of a cloud-based solution.
What is an on premise configurator?
The term comes from the English language and means "on-site" or "on one's own premises". On-premise is understood to mean server-based solutions. The required software or the configurator are operated on a company-internal or rented server and installed there. If you decide to use this solution, you are also responsible for the hardware and subsequent updates, maintenance,...etc.
What is a cloud configurator?
With cloud-based solutions, the software is made available via the Internet - without the need to install software locally. With the help of a cloud, storage space on computers and smartphones can be saved. This is because companies do not have to purchase any special hardware or software; they can easily rent external storage space and computing power.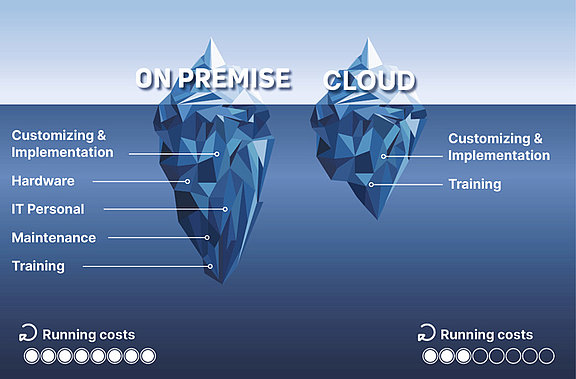 Advantages of cloud-based configurators?
Combeenation is available to you as a cloud-based solution. With this implementation, the software remains in the Combeenation data center. You are not responsible for installations, licenses, updates or maintenance - this is taken care of by Combeenation.
Safety
Cloud-based configurators are always up-to-date. As a customer, you don't have to worry about annoying security updates, and regular backups are also performed automatically. If you rely on cloud-based solutions, you have the guarantee that complete data loss is impossible. Combeenation also takes care of the encrypted communication between client and server. This is a great benefit, because with on-premise solutions you need IT employees who are responsible for data security, ongoing updates and system failures.
Scalability
Another advantage of cloud-based configurators is the scalability of demand. If the number of visitors and therefore the number of configurations increases, additional resources can be made available shortly. This is particularly important for the speed of a configurator. Any amount of storage space can soon be added to the external server - without having to buy new hardware. Since resources in the cloud can be made available across several continents without any problems, the end customer benefits from a consistently good user experience without long response times and delays. Combeenation itself has control over where the data is stored and in which country the cloud is hosted.Practical example: For the American customer B+N Industries and its system furniture configurator, a data center in America was chosen to achieve short response times for maximum user experience. For European customers, Combeenation relies on data centers in Europe.
Costs
The costs of cloud-based solutions are usually lower and easier to calculate. There are no costs such as operating data centers and server rooms or the procurement, installation, configuration, maintenance and updating of software. Users only need the Internet to access the configurator. For the most part, users are charged on a monthly or annual basis and there are no high setup costs.
Reliable partners
Combeenation has relied on the Microsoft Azure cloud from the very beginning and thus for years. A secure foundation with state-of-the-art security features.
Conclusion
The advantages in terms of security, scalability, costs, but also simplicity of use speak for themselves and prove that you are putting your money on the right horse with cloud configurators. Would you like to chat with experts about a possible cloud configurator without any obligation? Contact us now!
This might also interest you: