2D, 3D, visualization,...
3D Visualization or Product Photography?
Author: Elisabeth Sonnleitner
With the increasing importance of the Internet, digitalization and more and more digital possibilities, people's buying behavior has also changed significantly. Everything is shifting to the Internet and usually the online store or the advertisement is the first touchpoint with your product. High-quality and appropriate, meaningful product images are crucial here. Since then, product photography has been used to create advertising material and product images, but nowadays 3D visualization offers many advantages. We'll explain what the difference is between 3D visualization and product photography and why 3D visualization is better than photography. Let's go!
What is the difference between 3D visualization and product photography?
When it comes to creating promotional materials for products, product photography is clearly the standard. With proper planning and preparation, a wide variety of perspectives and camera settings can be photographed with a camera in just a few minutes. Furthermore, image editing programs benefit product photography and allow easy correction and retouching of the shot images. Thanks to digitization, qualitative product photos and advertising material can be created quite quickly.

3D visualization, on the other hand, is still quite new and takes place entirely digitally. In 3D visualization, products are modeled on the basis of CAD files or image references with the help of the computer and then placed in a virtual space and photographed with the help of a physically accurate light simulation. This may sound complicated and inconvenient at first, but it opens completely new doors and gives you possibilities that would be unthinkable with classic product photography.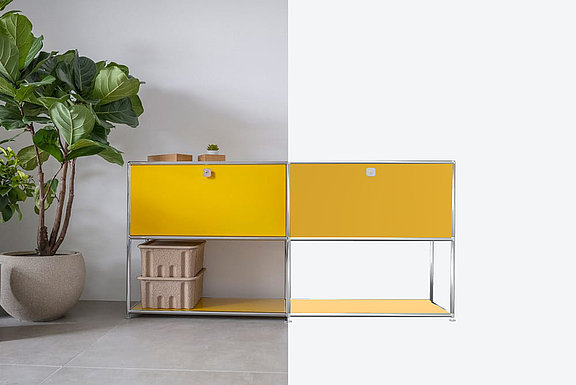 The advantages of 3D visualization
Using 3D renderings instead of product photos offers many advantages. Product photography has its limitations. For example, products that don't even exist yet are difficult or impossible to photograph. Or products with many variations require countless individual photos of the respective product combinations. 3D visualization comes a lot further. With the help of 3D renderings, investors or customers can be convinced of products that are not yet available on the market and their visualization can be simplified. A product in many different colors does not have to be photographed anew each time. One click is enough and the 3D model changes its color. But these are not the only advantages of 3D visualization over product photography. Let's take a closer look at the individual advantages of 3D rendering.
1. Less effort around the creation of the advertising material due to 3D visualization
Classic photo production involves a relatively large amount of organizational effort. A suitable studio must be organized and prepared, a setting may need to be constructed, and shooting permits are required in advance. In addition, a lot of equipment is required when creating product photos. Cameras, tripods, various lenses and flash systems are needed to ultimately shoot a variety of photos of the corresponding product. If changes to the setting or the product photos in general are then desired afterwards, this is hardly possible. In most cases, this means a considerable amount of additional work and correspondingly higher costs. With 3D visualization, all these time-consuming preparations are not necessary. The scenery is created digitally, it doesn't require a filming permit, it doesn't need a large team and the equipment is also much smaller.
2. Changes can be made at any time during 3D rendering
Later changes to the advertising material are no problem with 3D rendering. The scenery is loaded from a digital archive and can be changed from a beach to a warehouse or a stylish loft in no time. The 3D graphics themselves can also be adjusted quite easily afterwards. No matter if the model, the scenery or the color changes, it can be done within a few clicks. If I want to have changes to a product photo, I have to reshoot it. A 3D graphic can be changed at any time without any problems.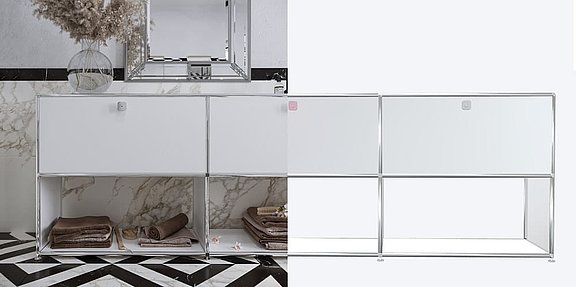 3. Creation of a wide range of 3D renderings in the shortest possible time
Another advantage of 3D visualization is that a large number of 3D renderings can be created in a very short time. For example, if you want to create different products in the same scenery or even different versions of the advertising material, then this is done quickly thanks to 3D visualization. The 3D renderings can be fully customized to your wishes and individual needs.
4. 3D graphics can be used anywhere
The application possibilities of 3D graphics are enormous. While product photos have a specific resolution and dimensions and are shot for a specific purpose, 3D graphics are completely free. A 3D graphic can be exported in any resolution and all that without any loss of quality. To be able to achieve high resolution product photos with a photo camera alone requires expensive and high quality equipment.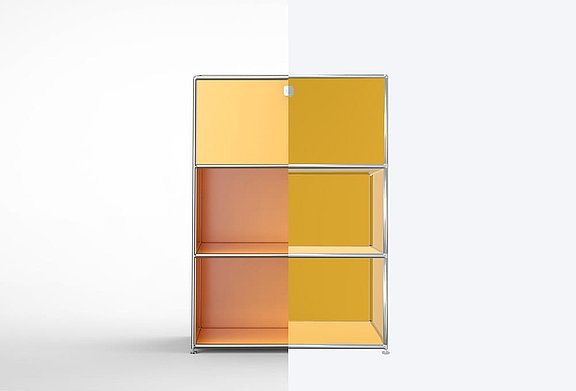 3D visualization - the future in e-commerce
The Internet and digitization have ensured that sales now primarily start and take place online. Product photos are used on the Internet to advertise and present products. Here, the product photos are decisive for whether the user ultimately buys the product. Because here the first impression of the product is important. Are the images of good quality? Do they reflect the product's value? Do they show the benefits of the product?

This is where 3D visualization enters the picture, because it enables an even better shopping experience and puts the focus on the important things about your product. 3D visualization makes it possible to depict even products that are difficult to photograph or display in high resolution. Particularly detailed products or products with many variations can be easily adapted. The latest technologies, such as 3D configurators or augmented reality, even allow users to view the products from all sides or to project them into their own room. Also details such as patterns or the actual color can be depicted true to the original thanks to 3D visualization on the Internet. Users are no longer forced to go to the physical store to experience a product as it really is. In combination with other new technologies of digitalization, 3D visualization enables a completely new shopping experience!
The checklist: should you choose 3D visualization or product photography?
Whether 3D visualization is really worthwhile for you can be easily determined with our checklist. The following questions will help you decide, because ultimately it all depends on your visualization project.

Is your product available in different variations and designs?
Customers can assemble and configure their products as they wish? Then it makes sense to take advantage of 3D visualization and use a product configurator, which uses 3D animation. This way, users can click together their product and see directly how it will look in the end and what they will actually receive.

Do your products live from details and functions?
If you offer products that have a lot of details, then 3D visualization is exactly what you need. Thanks to 3D graphics, users will have the opportunity to see your products from all perspectives and up close and see every special feature.

Do you need to place important information in the image?
Alongside the product images, the product information is one of the most important pieces of information for customers and makes a significant contribution to the purchase decision. It therefore makes sense to integrate this information directly into the product images. The 3D visualization can fulfill this smartly and sensibly.

Do you want to create a unique shopping experience?How can you stand out from the competition these days? Exactly, by creating a shopping experience for the customer. The advanced 3D visualization integrated in a product configurator makes it possible for customers to have a look at their desired product from all sides. They get the incomparable feeling of being in the store.
Conclusion: In times of digital change, it is essential to rely on 3D visualization. The countless advantages speak for themselves. Whether your product is a bicycle, barbecue grill, industrial shelf or piece of furniture, believe us, 3D visualization makes it come alive and gives you a competitive advantage.
This might also interest you: